Where Coastal Meets Contemporary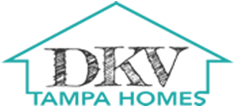 Welcome
to DKV Tampa Homes
DKV Tampa Homes is deeply committed to building beautiful and functional homes specially designed for the Tampa, Florida coastal area. Our new construction homes boast stunning workmanship, elegant finishes and gorgeous contemporary interiors that exemplify Florida coastal living. Our clients can choose from one of our gorgeous move–in ready homes or we can custom build one of our models on your existing lot. We also have many homes currently under construction, which could be finished to suit the unique needs of our buyers. We are currently offering three innovative designs: the Grand Palm, the Sundial, and the Sea Breeze. You will find more information on each model below, or feel free to contact us with any questions or enquiries.

"High quality homes built by high quality people. I've had nothing but a great experience with DKV Tampa Homes as they built me my dream house in Florida. By far the best South Tampa home builders out there."
– Victoria W.
Why Choose DKV Tampa Homes
Trusted Name in the Industry
We Keep You Involved
Member of the NAHB
Custom Quality at Affordable Prices
Conventional Loan Approved
Up Front Pricing
Free Consultation
Fast Response Times

Efficient Process

FHA Approved Builder
Customize Features
A Company You Can Trust
We Build on Your Land or Ours
Results Focused
VA Approved Builder
Get Started Today
The next step to you dream home is only a click away.
Free Consultation
Top-Rated Service
Real Results
DKV Aligned with Quality Partners

At the heart of USAmeriBank's success are better bankers. These are among the most tenured financial professionals you'll find anywhere – men and women who know their business inside and out, care for customers with a dedication that gets them up early and has them working late, and connects them deeply to the communities they serve. They take the extra time, and go the extra mile, to make sure they add real value to your life through their services.

Since 1906, the Coldwell Banker® organization has been a premier provider of full–service residential and commercial real estate brokerage services. Coldwell Banker Real Estate is the oldest national real estate brand and franchisor in the United States, and today has a global network of approximately 3,000 independently owned and operated franchised broker offices in 43 countries and territories with more than 86,000 affiliated sales professionals, and their industry–leading tools and services have helped make the dream of owning a home a reality for millions of families.
Memberships and Certifications

The National Association of Home Builders (NAHB) helps its members build communities. Each year, NAHB's members construct about 80% of the new homes built in the United States. A federation of more than 700 state and local associations, NAHB represents more than 140,000 members. Since it was founded in the early 1940s, NAHB has served as the voice of America's housing industry.

The mission of the Office of Fair Housing and Equal Opportunity (FHEO) is to eliminate housing discrimination, promote economic opportunity, and achieve diverse, inclusive communities by leading the nation in the enforcement, administration, development, and public understanding of federal fair housing policies and laws.